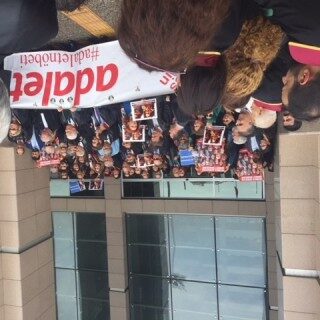 15 mei 2018
L4L en FTW in Istanbul voor zittingen
Op 10 mei 2018 werden in Istanbul drie zittingen gehouden in strafzaken tegen advocaten die verdacht worden van terrorisme gerelateerde misdaden: de KCK-zaak, de ŐHD-zaak en een nieuwe zaak (aangaande het Cizre-protest). Vertegenwoordigers van Lawyers for Lawyers (L4L) en Fair Trial Watch hebben twee van die hoorzittingen waargenomen, samen met waarnemers uit het Verenigd Koninkrijk, Noorwegen, Frankrijk, Duitsland, Zwitserland, Italië en Spanje. Ze werden vergezeld door Nardy Desloover, voormalig deken van de Orde van Advocaten in Rotterdam, die de Nederlandse Orde van Advocaten vertegenwoordigde.
Sinds de couppoging in juli 2016 zijn 1539 advocaten vervolgd in Turkije. 580 advocaten zijn gearresteerd en 103 advocaten zijn veroordeeld tot een gevangenisstraf, allemaal wegens terrorisme gerelateerde aanklachten (Bron: "Incarceration of Turkish lawyers | En masse arrests and convictions," The Arrested Lawyers Initiative, april 2018, zie www.arrestedlawyers.org). Veel advocaten zijn verdachten in meer dan één zaak.
Uit gesprekken met advocaten en organisaties in Istanbul bleek dat de situatie van advocaten in Turkije nog steeds zeer moeilijk is. Alle beschuldigde en gedetineerde advocaten worden ernstig belemmerd in het verdedigen van hun cliënten. De beschuldigingen en arrestaties hebben ook een chilling effect op andere advocaten.
De KCK-zaak
De eerste zitting was de 16e hoorzitting in de KCK-zaak: een zaak die begon met de arrestatie van 46 advocaten in november 2011 en nog steeds loopt. De beschuldigde advocaten vertegenwoordigden allemaal de PKK-leider Abdullah Őcalan en zijn beschuldigd van lidmaatschap van een terroristische organisatie en terrorisme gerelateerde activiteiten. Sommige advocaten hebben bijna 2,5 jaar in voorlopige hechtenis gezeten.
Slechts 5 beklaagden waren aanwezig. De advocaten wezen op onregelmatigheden die ze aantroffen in de dossiers van de momenteel vervolgde rechters, officieren van justitie en politieagenten (die eerder betrokken waren bij hun zaak) die op verzoek aan de advocaten waren toegevoegd aan het dossier. Ze vroegen de rechtbank om dit te onderzoeken. De zaak is uitgesteld tot 30 oktober 2018.
Zaak inzake het Cizre-protest
De tweede zitting was een nieuwe zaak, waarbij 18 advocaten terechtstaan voor het organiseren van een demonstratie op 15 september 2015 en het oplezen van een persverklaring tegen de belegering van Cizre in Zuidoost-Turkije, waardoor inwoners geen toegang hadden tot spoedeisende zorg. voedsel of water. Ze worden beschuldigd van terroristische propaganda en schenden artikel 32 van wet 2911, waarin ongeoorloofde demonstraties zijn verboden. Drie van deze advocaten zitten in voorlopige hechtenis voor andere zaken, de andere beklaagden zitten momenteel niet in de gevangenis.
De beschuldigde advocaten zijn Avni Güçlü Sevimli, Şerafettin Can Atalay, Sinan Zincir, Sezin Uçar (in detentie), Ramazan Demir, Onur Şahinkaya, Neziha Eken, Naciye Demir (in detentie), Mustafa Rüzgar, Mehmet Űmit Erdem, Banu Güveren, Baran Doğan, Diren Yeşil, Ebru Timtik (in detentie), Ercan Kanar, Gökmen Yeşil, Güray Dağ, Hüseyin Boğatekin.
De verdediging bepleitte dat het recht op vrijheid van meningsuiting, vergadering en betoging ook van toepassing is op advocaten, en dat zij daarom moeten worden vrijgesproken. Ook werd betoogd dat de procedurele rechten van de beklaagden waren geschonden. De officier van justitie heeft geen toestemming gekregen van het Ministerie van Justitie om de advocaten te vervolgen, hoewel dit een wettelijk vereiste is. Bovendien werden twee van de gedetineerde advocaten gehoord via een videoverbinding en niet in de rechtszaal, hetgeen met name door één van hen werd aangevochten. De andere verdachte advocaten steunden haar bezwaar door te weigeren een verklaring af te leggen totdat ook de gedetineerde verdachten in de rechtszaal aanwezig zouden kunnen zijn.
De verdediging verzocht de zaak daarom aan te houden. Dit verzoek werd ingewilligd: de zaak werd uitgesteld tot 8 november 2018.
De ŐHD-zaak
De derde zitting betrof 9 advocaten die beschuldigd worden van deelneming aan een terroristische organisatie voor activiteiten zoals het bezoeken van cliënten in de gevangenis, het indienen van klachten bij het Europees Hof voor de Rechten van de Mens en het onderhouden van contacten met internationale organisaties. Dit was het 8e zitting in deze strafzaak.
De vertegenwoordigers van L4L en Fair Trial Watch konden deze zitting niet bijwonen, omdat het tegelijkertijd plaatsvond met de andere zittingen. We hebben begrepen dat één van de beschuldigde advocaten een verklaring aflegde. Deze zaak werd uitgesteld tot 6 september 2018. Op die zitting zal de verdediging hun inhoudelijke verdediging voeren.
Zorgen
L4L en Fair Trial Watch zijn vanzelfsprekend nog steeds erg bezorgd over de situatie van advocaten in Turkije en zullen de strafzaken