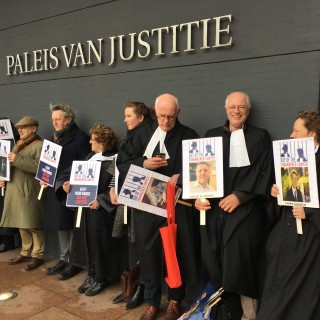 25 januari 2018
Manifestatie en lezing in Den Haag
Enkele tientallen advocaten hebben gisteren, 24 januari 2018, deelgenomen aan een manifestatie voor het paleis van justitie in Den Haag uit solidariteit met collega's in het buitenland die worden belemmerd in hun beroepsuitoefening. Dat gebeurde in het kader van De Dag van de Bedreigde Advocaat. De focus lag dit jaar op Egypte. Ondanks het gure weer lieten de advocaten hun collega's in beroerde situaties dus niet in de kou staan.
Wout Albers was een van de aanwezigen die in toga deelnam aan de manifestatie. ,,We hopen op deze manier de aandacht te vestigen op de situatie waarin onze collega's zich bevinden. Het is voor ons bijna niet voor te stellen in wat voor omstandigheden zij hun werk moeten doen. Solidariteit van andere advocaten is heel belangrijk. Ik hoop dat onze Egyptische collega's zich hierdoor gesteund voelen en weten dat de wereld ziet wat er in hun land gebeurt".
Internationaal
De Dag van de Bedreigde Advocaat is een internationaal evenement, een initiatief van de gelijknamige stichting. Dit jaar werd in maar liefst 35 steden aandacht besteed aan de Dag van de Bedreigde Advocaat, waaronder in New York, Taipei en Parijs.
Lawyers for Lawyers organiseert elk jaar in het kader van deze dag een lezing of seminar over het land dat als speerpunt is gekozen. Dat was ditmaal Egypte. In dit door militairen bestuurde land staan de mensenrechten en de onafhankelijkheid van de rechtspraak danig onder druk. De situatie van advocaten daar verslechtert met de dag. Een groot aantal advocaten werd de afgelopen jaren gearresteerd in verband met de uitoefening van hun beroep.
Ongoing crisis
De lezing in een zaal van de Haagse rechtbank werd op uitnodiging van Lawyers for Lawyers gegeven door de Italiaanse advocaat Nicola Canestrini. Hij was afgelopen december nog op een fact-finding missie in Egypte, waar hij meerdere advocaten heeft gesproken. Hij ging tijdens zijn voordracht zeer uitgesproken in op de zorgwekkende situatie in dat land. ,,Human rights lawyers, as other human rights defenders in Egypt, suffer persecutions like arbitrary arrests, forced disappearances, torture, fabricated charges, detention and travel bans. The security forces are not the only party abusing lawyers. The courts, judges and prosecutors are also violating the right of defense, which reveals the depth of the ongoing crisis of the Rule of Law under the present regime. The international community of lawyers and civil society should raise their voice asking for the respect of fundamental rights", aldus Nicola Canestrini.Het seminar werd in samenwerking met de Jonge Balie Den Haag georganiseerd en trekt ieder jaar meer belangstellenden. De zaal was nu tot op de laatste stoel bezet. Het is dan ook een uitgelezen moment om collega's te ontmoeten die zich zorgen maken over de Rule of Law op vele plekken in de wereld en die willen opkomen voor collega's die worden bedreigd, geïntimideerd of in de gevangenis verblijven.
Tekst: Johan van Uffelen/Sophie de Graaf, foto's: Sophie de Graaf