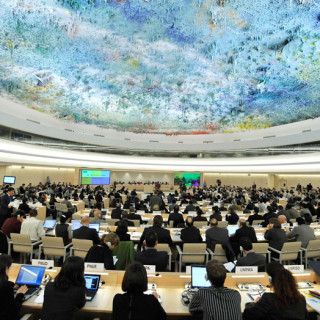 26 september 2018
Mondelinge verklaring voor UPR outcome
Op 20 september 2018 heeft Lawyers for Lawyers een mondelinge verklaring afgelegd tijdens de 39e zitting van de VN-Mensenrechtenraad. Tijdens deze zitting werd het Universal Periodic Review (UPR) outcome report, het rapport met aanbevelingen, van de Russische Federatie vastgesteld. Voor deze UPR-sessie had Lawyers for Lawyers eerder al een NGO rapportage ingediend.
Lees de volledige verklaring hier:
Mr President,
Lawyers for Lawyers welcomes the decision of the Russian Federation to accept the recommendation relating to the investigation of attacks and threats against lawyers, made at its 3rdUPR.We call on the Russian Federation to effectively implement this recommendation without delay.
Protection of human rights and fundamental freedoms requires effective access to legal services provided by an independent legal profession. Fundamental to improving human rights for the people in the Russian Federation is a justice system that provides due process for rights holders and allows lawyers to work independently without fear of harassment or intimidation.
According to our information, lawyers in the Russian Federation working on sensitive cases are sometimes subjected to attempts by investigative authorities to harass and disrupt their work. Lawyers face threats, intimidation and (physical) attacks[4]in connection with their legitimate activities as lawyers.
Authorities in these cases have sometimes failed to carry out prompt and thorough investigations into the threats and attacks. Impunity of these acts could have a "chilling effect", resulting in lawyers refusing to represent clients in sensitive cases, out of fear of becoming the target of harassment. This severely compromises the universal right to effective legal representation and access to justice for all.
We therefore urge the Russian Federation to take immediate measures to prevent any threats and attacks against lawyers effectively, publicly condemn them at all levels and promptly and thoroughly investigate them to end impunity.
Klik hier voor een PDF- versie van de verklaring. Een video van de verklaring is hier beschikbaar:
Meer nieuws uit Russian Federation