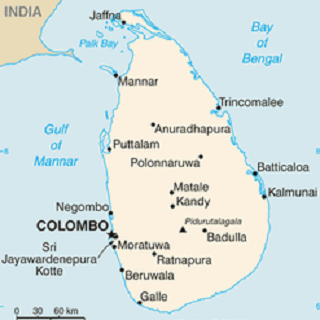 19 september 2014
Sri Lanka Situatie advocaten verslechtert in rap tempo
De situatie van advocaten in Sri Lanka is snel verslechterd. Lawyers for Lawyers werd geïnformeerd over- en gecontacteerd door verschillende advocaten die het slachtoffer zijn van (doods) bedreigingen in verband met hun werk. Deze week schreef Lawyers for Lawyers brieven aan de autoriteiten van Sri Lanka, om hen op te roepen een grondig onderzoek te doen naar de bedreigingen, de daders voor de rechter te brengen en de persoonlijke en professionele veiligheid van advocaten in Sri Lanka te garanderen, in lijn met de Basic Principles on the Role of Lawyers.
Upul Jayasuriya
Op 15, 16 en 17 juli diende Upul Jayasuriya, advocaat en deken van de Sri Lankese Orde van Advocaten een klacht in bij de politie van Thalangama over een incident waarbij hij werd gevolgd door niet-geïdentificeerde personen op twee motorfietsen. De BASL heeft betrouwbare informatie dat de mannen die Upul Jayasuriya volgden van de Staat Intelligence Service (SIS) waren.
Omdat de politie weigerde de noodzakelijke veiligheidsmaatregelen voor Upul Jayasuriya treffen, werd de zaak aan het gerechtshof voorgelegd. Terwijl de zaak werd aangehouden om meer informatie te krijgen, heeft het ministerie van Defensie de politie ingelicht dat er geen noodzaak was voor persoonlijke veiligheidheidsmaatregelen. Volgens hen was er geen bedreiging van het leven van Upul Jayasuriya. De rechtbank volgde dit advies. Tot nu toe is geen enkele persoon aangehouden en zijn er geen veiligheidsmaatregelen getroffen door de nationale politie om Jayasuriya te beschermen.
Namal Rajapakshe, Manjula Pathiraja & Lakshan Dias
Mr Rajapakshe, Mr Pathiraja en de heer Dias treden regelmatig op voor slachtoffers van mensenrechten schendingen, ongeacht hun etnische en religieuze achtergronden, en vaak pro bono. Zij werkten onder andere aan gevoelige zaken waarbij arbitraire acties van overheidsorganen centraal stonden.
Op 4 augustus 2014 werden Mr Rajapakshe, Mr Pathiraja en de heer Lakshan Dias geïntimideerd door een groep mannen in het Maradana politiebureau, toen zij daar waren om cliënten bij te staan.  De heer Rajapakshe diende een klacht in over dit incident op 5 augustus 2014, maar tot nu toe zijn er nog geen maatregelen genomen door de politie in verband met deze intimidatie.
Daarnaast drongen op 13 september 2014, twee onbekende gemaskerde mannen het kantoor van Namal Rajapakshe in Kelaniya, district Colombo binnen. Een van de mannen, gewapend met een pistool, dreef Namal Rajapakshe in een hoek en dreigde dat hij en Manjula Pathiraja gedood zouden worden als zij zich met "onnodige zaken" zouden blijven bezighouden. Hen werd naar verluidt verteld dat ze 'twee doodskisten klaar moeten maken' als ze zich bezig zouden blijven houden met deze zaken. De gewapende man noemde in het bijzonder een aantal zaken waarin Rajapakshe en Pathiraja verschenen, tegen een omstreden boeddhistische monnik die in het recente verleden de steun van de Defensie autoriteiten had ontvangen. De twee inbrekers zijn vervolgens gevlucht op een motorfiets. De heer Rajapakshe heeft een klacht ingediend bij het ​​politiebureau Peliyagoda, die geregistreerd werd onder nummer CIB/III – 230/123.
Lawyers for Lawyers zal de hierboven genoemde gevallen op de voet blijven volgen. Klik hier om de brieven die zijn verzonden in te zien.