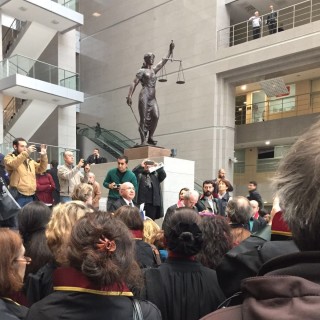 20 november 2016
Verrassende ontwikkelingen in de KCK-zaak
Op 14 november 2016 woonden waarnemers van Lawyers for Lawyers, Fair Trial Watch en het dekenberaad (11 lokale Nederlandse Ordes) opnieuw een zitting bij in de KCK-zaak tegen 46 advocaten, die worden verdacht van betrokkenheid bij terrorisme. Zij hebben allen op enig moment PKK-leider Abdullah Őcalan bijgestaan en zouden boodschappen van Őcalan hebben overgebracht aan de PKK-achterban. Deze zaak loopt vanaf november 2011 en werd in eerste instantie behandeld door een speciale rechtbank voor terrorismezaken. Nadat deze rechtbanken in maart 2014 werden afgeschaft, werd de zaak verwezen naar de gewone rechtbank in Istanbul.
De zaak bleek te worden behandeld door drie nieuwe rechters en een nieuwe officier van justitie. De verdediging bracht naar voren dat de officier van justitie en de voorzitter van de rechtbank die de zaak oorspronkelijk behandelden Gülen-aanhangers zijn die de verdenkingen en bewijs tegen de advocaten zouden hebben gefabriceerd. Ook zouden er een of meer parallelle dossiers zijn, die aan het dossier van de zaak zouden moeten worden toegevoegd, en werd betoogd dat het nu voorliggende dossier een rommeltje is. De verdediging verzocht de zaak aan te houden, omdat deze kwesties nader moeten worden onderzocht. Nadat de officier van justitie met dit verzoek had ingestemd – een primeur in deze zaak -, werd de zaak verwezen naar de zitting van 9 maart 2017.
Hoewel de betrokken advocaten blij waren met deze ontwikkeling, is het beeld van de positie van advocaten in Turkije en van de rechtsstaat in het algemeen zeer somber. De waarnemers hebben gesprekken gevoerd met verschillende advocaten, o.a. van de ŐHD (Lawyers for Freedom) en van de krant Cumhuriyet. Allen bevestigden dat de rechtsstaat in Turkije, waar sinds 5 dagen na de couppoging van 15 juli 2016 de noodtoestand van kracht is, in feite niet meer bestaat. Het land wordt geregeerd per decreet, en rechters die uitspraken doen die de regering niet welgevallig zijn lopen het risico zelf in de gevangenis te belanden.
In de ochtend van 14 november 2016 werd Levent Piskin, advocaat en lid van de ŐHD, opgepakt. Twee dagen later werd hij ontslagen uit voorlopige hechtenis. Eerder werden zeven journalisten en drie advocaten van Cumhuriyet gearresteerd. Zij zitten nog steeds in voorlopige hechtenis.
Lawyers for Lawyers maakt zich ernstige zorgen over de ontwikkelingen in Turkije en zal deze nauw blijven volgen, onder andere door zittingen in zaken tegen advocaten te blijven waarnemen. Ook zal Lawyers for Lawyers er op blijven aandringen dat de Turkse regering advocaten en hun rol in de rechtsstaat respecteert en de Basic Principles on the Role of Lawyers in acht neemt.