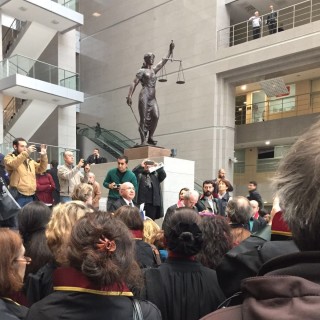 16 maart 2017
L4L en FTW in Istanbul voor zitting KCK-proces
Op 9 maart 2017 vond in Istanbul opnieuw een zitting plaats in de langlopende zaak tegen 46 advocaten, die worden beschuldigd van betrokkenheid bij terrorisme. Deze zaak loopt sinds 2011. Alle vervolgde  advocaten zijn op enig moment advocaat geweest van Abdullah Őcalan, de leider van de PKK. Sommige van hen hebben bijna 2,5 jaar in voorlopige hechtenis gezeten. Waarnemers van L4L, Fair Trial Watch (FTW), de Nederlandse Orde van Advocaten, en waarnemers uit Groot-Brittannië, Frankrijk, Duitsland en Italië woonden de zitting bij.
Tijdens de vorige zitting in november 2016 bracht de verdediging naar voren dat de officier van justitie en de voorzitter van de rechtbank die de zaak oorspronkelijk behandelden Gülen-aanhangers zijn die verdenkingen en bewijs tegen de advocaten zouden hebben gefabriceerd. Inmiddels worden ook zij vervolgd, net als de politieagenten en onderzoeksrechters die betrokken waren bij het vooronderzoek. De verdediging vroeg daarom om onmiddellijke vrijspraak, welk verzoek werd afgewezen. De verdediging diende daarnaast opnieuw verzoeken in om informatie aan het dossier toe te voegen, net als de Officier van Justitie. De rechtbank wees deze verzoeken deels af, en deels toe. De zaak werd aangehouden tot 6 juli 2017.
Na de zitting hebben de waarnemers gesprekken gevoerd met advocaten die werkzaam zijn voor TOHAV, de Foundation for Society and Legal Studies, met wie is gesproken over de slechte situatie in de gevangenissen in Turkije.  Ook spraken de waarnemers met advocaat Önder Durdu, die een rechter bijstaat die wordt verdacht van terrorisme vanwege betrokkenheid bij de Gülenbeweging . De advocaat  staat daardoor onder zware druk. Daarnaast is opnieuw gesproken met advocaten van de krant Cumhuriyet. Het beeld dat zij schetsen van Turkije, waar sinds de mislukte coup van 15 juli 2016 de noodtoestand van kracht is, is nog steeds uiterst somber.  Van een rechtsstaat is volgens hen geen sprake meer.
De waarnemers spraken bovendien met Robert Schuddeboom, de Nederlandse consul-generaal, op het consulaat in Istanbul.
Arrestaties van advocaten
Hoewel het lastig is om een precies en volledig beeld te krijgen van de advocaten die zijn gearresteerd, is wel duidelijk dat het er honderden zijn en dat de arrestaties nog steeds doorgaan.  De advocaten die hen bijstaan ondervinden ook problemen: zij mogen hun van terrorisme verdachte cliënten slechts 1 uur per week bezoeken. Alles wat besproken wordt, wordt opgenomen, zowel op band als op camera, en er is altijd een bewaker aanwezig bij het gesprek. Dit maakt het moeilijk, zo niet onmogelijk, om een goede verdediging te voeren.
De situatie in Turkije blijft dus uiterst zorgelijk. L4L zal de ontwikkelingen nauw blijven volgen en er op blijven aandringen dat de Turkse regering advocaten en hun rol in de rechtsstaat respecteert en de UN Basic Principles on the Role of Lawyers in acht neemt.