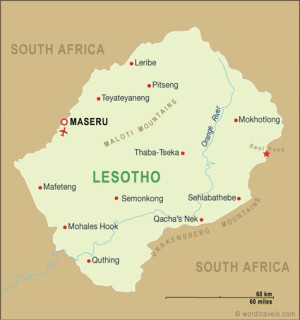 19 februari 2016
Advocaat Khotso Nthontho gearresteerd
Lawyers for Lawyers en Lawyers' Rights Watch Canada (LRWC) zijn bezorgd over de arrestatie van advocaat Khotso Nthontho en de voortdurende bedreigingen van advocaten in Lesotho. Met name de advocaten van 23 soldaten, die werden beschuldigd van het beramen van een muiterij, lijken risico te lopen op intimidatie.
De arrestatie en vrijlating van advocaat van Khotso Nthontho
Prominente advocaat Khotso Nthontho werd vroeg in de avond op 12 februari 2016 gearresteerd op beschuldiging van meineed. Volgens het Southern African Litigation Centre (SALC) wordt ervan uitgegaan dat deze beschuldigingen verband houden met Nthontho's vertegenwoordiging van een deel van de soldaten die worden beschuldigd van muiterij. Nadat een gerechtelijk bevel was verkregen voor de onmiddellijke vrijlating van Nthontho, werd hij vlak voor middernacht op 12 februari onder zware beveiliging vrijgelaten. Terwijl hij in detentie zat werden het huis en de auto van Nthontho beschoten, waardoor beide ernstig beschadigd werden.
Nthontho werd op 16 februari formeel beschuldigd van meineed. Op 26 februari 2016 zal de rechtbank een datum bepalen voor de zitting in de zaak.
Advocaten die 23 soldaten beschuldigd van muiterij vertegenwoordigen in gevaar
Nthontho is lid van een team van vijf advocaten die 23 soldaten bijstaan. Deze soldaten worden beschuldigd van het beramen van muiterij samen met ex-legerleider Maaparankoe Mahao, die op 25 juni 2015 werd gedood. In de afgelopen maanden werden advocaten Haae Phoofolo, Christopher Lephuthing, Koili Ndebele, Tumisang Mosotho en de heer Nthontho het slachtoffer van bedreigingen en intimidatie door de Lesotho Defence Force (LDF), zowel binnen als buiten de rechtbank. Eind vorig jaar werd een zogenaamde 'hit list' verspreid waarop de namen van de vijf advocaten van de beschuldigde soldaten vermeld stonden. In december 2015 vroegen Lawyers for Lawyers en LRWC de autoriteiten al om, zoals de Basic Principles on the Role of Lawyers voorschrijven, een onderzoek in te stellen naar de achtergrond en de herkomst van de 'hit list' en de veiligheid van de advocaten te garanderen.
Klik hier voor de persverklaring.