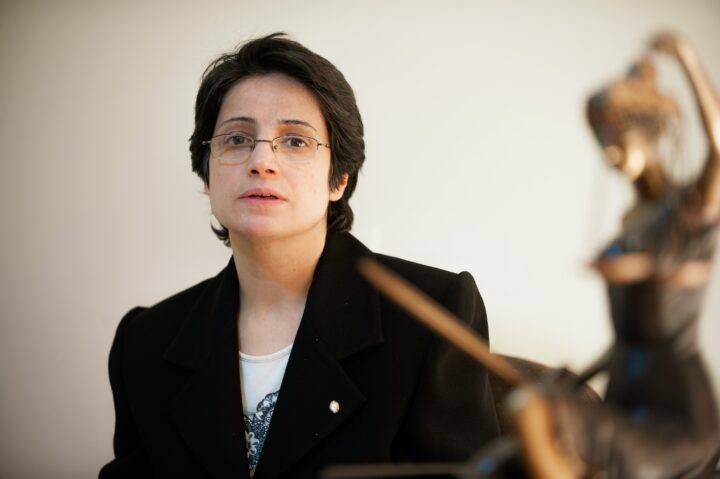 31 augustus 2020
Nasrin Sotoudeh's health deteriorating during hunger strike
On 11 August 2020 human rights lawyer Nasrin Sotoudeh started her second hunger strike in 6 months to demand the release of political prisoners in the Evin prison that are threatened by the COVID-19 virus. She has now been on hunger strike for three weeks and her health is deteriorating.
It has been reported that Nasrin Sotoudeh was transferred to the clinic of the Envin prison because of the critical condition of her health.
Before starting the hunger strike, Sotoudeh wrote several letters to the judicial authorities concerning the poor conditions of political prisoners. In these letters she presents multiple reasons for her hunger strike. It has been stated that the judicial authorities have not responded to her letters. 
On 17 August 2020 Mehraveh Khandan, Sotoudeh's daughter, was arrested in her home and brought to court in Envin prison. Frontline Defenders reported that no reason of her arrest was given to her or her family at the time, though her family later communicated she was being accused of physically assaulting a female security officer a year ago. After being detained for a few hours, Mehraveh was released on bail. Her family denounces the accusation made and claim that Mehraveh's arbitrary arrest is a tool to increase pressure on Nasrin Sotoudeh while she is on hunger strike.
Sotoudeh was arrested in June 2018, and on 12 March 2019 sentenced to 38 years in prison for her peaceful work as a human rights attorney, 12 years of which she must serve before becoming eligible for parole. Among her charges were "encouraging prostitution" for advocating against compulsory hijab and defending citizens' right to peaceful dissent.
L4L has grave concerns on the situation of Nasrin Sotoudeh, who's health is reportedly in critical condition after three weeks of hunger strike.