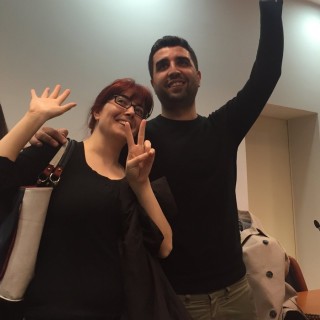 7 april 2016
Advocaten Ramazan Demir en Ayşe Acinikli opnieuw aangehouden
Na de eerste arrestatie en vrijlating van negen advocaten in Istanbul tussen 16-19 maart 2016 , werden er op 22 maart nieuwe arrestatiebevelen uitgevaardigd tegen vier van hen. Twee advocaten werden onmiddellijk daarna opnieuw gearresteerd en een paar dagen later vrijgelaten. Gisteren werden advocaten Ramazan Demir en Ayşe Acinikli opnieuw gearresteerd.
Arrestatie negen advocaten
In de vroege ochtend van 16 maart 2016 heeft de politie de huizen van 9 advocaten doorzocht in Istanbul, Turkije. Na de doorzoekingen werden advocaten Ramazan Demir, İrfan Arasan, Ayşe Acinikli, Hüseyin Boğatekin, Şefik Çelik, Adem Çalışçı, Ayşe Başar, Tamer Doğan en Mustafa Ruzgar gearresteerd. Het is niet bekend waarvan de advocaten beschuldigd worden; het dossier van de arrestaties is geheim. Naar verluidt zouden de advocaten gearresteerd zijn op verdenking van het hebben van banden met een terroristische organisatie.
KCK-proces tegen 46 advocaten
Alle gearresteerde advocaten staan de 46 advocaten bij, die in 2011 werden gearresteerd op verdenking van "het werken voor, of behoren tot een terroristische organisatie". Er vond slechts een dag na de arrestaties een zitting in deze zaak plaats, op 17 maart 2016. Deze zitting werd uitgesteld tot 28 juni 2016; de overige advocaten van de 46 verdachte advocaten verlieten de zitting uit protest, met toestemming van hun cliënten. Zij gaven aan dat zij niet in staat waren om een adequaat verweer te voeren nu hun collega's in hechtenis zaten. De zitting werd waargenomen door een groep internationale waarnemers, waaronder vertegenwoordigers van Lawyers for Lawyers, Fair Trial Watch (FTW) en de Nederlandse Orde van Advocaten.
Arrestaties houden verband met beroepsactiviteiten advocaten
Lawyers for Lawyers en FTW hebben reden om te geloven dat de negen advocaten, net als de advocaten in de KCK-zaak, werden gearresteerd vanwege hun werk als advocaten en omdat zij cliënten vertegenwoordigen die verdacht worden van terrorisme of het zich verzetten tegen de Turkse regering.
Klik hier voor het officiële persbericht