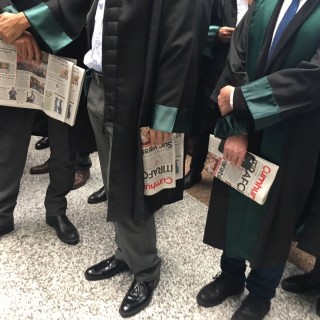 22 november 2016
L4L en FTW nemen twee processen waar
Op dinsdag 22 november 2016 werd in Istanbul de strafzaak vervolgd tegen 12 advocaten, bijna allen leden van de ŐHD, de Vereniging van Advocaten voor Vrijheid. Zij worden verdacht van betrokkenheid bij terroristische activiteiten. Advocaten van Lawyers for Lawyers en Fair Trial Watch hebben het proces in Istanbul bijgewoond. De deken van de Amsterdamse Orde van Advocaten, mr. Pieter van Regteren Altena, woonde het proces bij namens elf Nederlandse Ordes, het zogenaamde dekenberaad. Ook waren er internationale waarnemers uit Frankrijk en Italië.
Twee van de advocaten die worden vervolgd zijn Ayşe Acinikli en Ramazan Demir. Ramazan Demir verdedigde eerder zowel journalisten als advocaten die door de Turkse overheid in massa-terrorismeprocessen worden vervolgd. Ook trad hij op voor de Nederlandse journaliste Frederike Geerdink. Ramazan Demir en Ayşe Acinikli hebben van 6 april tot 7 september 2016 in voorlopige hechtenis gezeten.
Tijdens hun verhoor werden de advocaten ondervraagd over werkzaamheden die zij eerder hadden verricht, zoals de klachten die zij bij het Europese Hof van de Rechten van de Mens hadden ingediend over mensenrechtenschendingen door het Turkse leger tijdens de belegering van steden in Zuidoost-Turkije, waar overwegend Koerden wonen. Ook moesten zij vragen beantwoorden over hun bezoek aan gedetineerde cliënten en over interviews die ze hadden gegeven aan (Westerse) media.
De verdachte advocaten en de verdediging benadrukten dat de positie van advocaten in Turkije moeilijker is dan ooit. Vorige week zijn (samen met honderden andere civiele organisaties) drie advocatenorganisaties tijdelijk verboden: de ŐHD, de CHD en de MHD. Vannacht werd het verbod definitief. De verdachte advocaten en hun verdediging verklaarden in deze sfeer van repressie geen verdediging te kunnen voeren.
Een van de verdedigende advocaten zei: "We bevinden ons in een van de meest duistere periodes van repressie: het sluiten van verenigingen, het oppakken van advocaten, het monddood maken van de media."
De zaak is aangehouden tot  20 april 2017.
De KCK-zaak tegen 46 advocaten
Op 14 november 2016 woonden waarnemers van L4L, Fair Trial Watch en de Nederlandse Orde van Advocaten ook al een zitting bij, in de zaak tegen 46 advocaten, die worden verdacht van betrokkenheid bij terrorisme. In deze 'KCK-zaak' waren er verrassende ontwikkelingen.
Recente arrestaties van advocaten
Intussen worden steeds opnieuw advocaten gearresteerd. Maandag 21 november 2016 ging het om vier advocaten in Mardin (Zuidoost-Turkije): Ziya Bagi, Seher Acar, Mahmut Bingol en Feyzi Adsiz. Zij zijn allen lid van de Vereniging van Mesapotamische Advocaten en hielden zich bezig met het documenteren van mensenrechtenschendingen in het gebied waar strijd wordt geleverd tussen het Turkse leger en de PKK. Begin november 2016 werden in Istanbul, samen met zeven journalisten, drie advocaten van de Turkse krant Cumhuriyet aangehouden: Kemal Gungor, Bülent Utku en Akin Atalay. Zij zitten allen nog steeds vast.
Op 14 november 2016 werd Levent Pişkin aangehouden. Hij is advocaat van HDP-leider Selahattin Demirtaş, LGBTI-activist en lid van de ŐHD. Hij werd opgepakt kort nadat hij de begin november gearresteerde Demirtaş had bezocht in de gevangenis. Samen met de Law Society van England en Wales riep L4L op tot zijn vrijlating. Op 16 november 2016 werd zijn voorlopige hechtenis opgeheven. De (enige) vraag die hem tijdens zijn detentie werd gesteld waarom hij met Demirtaş wilde praten.
Ernstige zorgen
L4L maakt zich ernstige zorgen over de ontwikkelingen in Turkije en zal deze nauw blijven volgen, onder andere door zittingen in zaken tegen advocaten te blijven waarnemen. Ook zal L4L er op blijven aandringen dat de Turkse regering advocaten en hun rol in de rechtsstaat respecteert en de UN Basic Principles on the Role of Lawyers in acht neemt. Klik hier voor het persbericht.