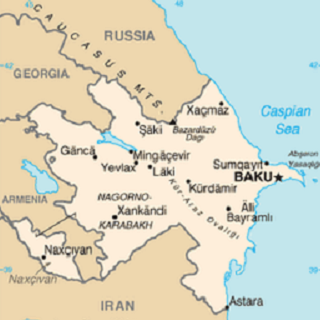 14 november 2016
Bedreiging van advocaat
Elchin Sadigov, een advocaat uit Azerbeidzjan, is het slachtoffer geworden van bedreigingen. Volgens Freedom House houdt deze intimidatie verband met Sadigov's professionele activiteiten als advocaat.
Op 3 november 2016 dook in de media een artikel op waarin advocaat Elchin Sadigov ervan beschuldigd wordt een relatie te hebben met de vrouw van een cliënt, Fikrat Faramazoglu. Daarnaast werd Elchin Sadigov op 2 november op de 'afdeling ernstige misdaden' van het ministerie van Binnenlandse zaken bedreigd door een van de onderzoekers in de zaak tegen Fikrat Faramazoglu. Deze bedreigingen zouden verband houden met een interview dat Sadigov had gegeven over de marteling van Fikrat Faramazoglu door het personeel van het ministerie.
Ook bezocht de politie op 2 november het huis van de familie van Elchin Sadigov in de regio Goygol, in het noordwesten van Azerbeidzjan. Zijn broer werd gedagvaard voor verhoor. De volgende dag werd deze broer ondervraagd door de lokale politie over Elchin Sadigov zelf, zijn vrouw en kinderen en hun plaats van inschrijving als ingezetenen. De politie vertelde Elchin Sadigov later dat men de opdracht had gekregen om deze gegevens te verzamelen, maar weigerde de reden hiervoor te vermelden.
Freedom House heeft ook melding gemaakt van de intimidatie van een andere advocaat: op 2 november kreeg mensenrechten advocaat Fariz Namazil te horen dat er een klacht tegen hem was ingediend, omdat hij op 20 oktober 2016 iemand zou hebben aangevallen tijdens een zitting. Fariz Namazil werd echter zelf aangevallen tijdens deze zitting. Er is gemeld dat het ministerie van binnenlandse zaken op  5 november bevestigd heeft dat de advocaat niemand heeft aangevallen.
Op dezelfde dag dat deze incidenten plaatsvonden, kwam het VN Mensenrechten Comité met aanbevelingen aan de Azerbeidjaanse autoriteiten op basis van onderzoek. Het Comité drong er bij de Azerbeidjaanse autoriteiten op aan om onmiddellijk maatregelen te nemen: "to ensure that sufficient safeguards are in place, both in law and in practice, to guarantee the full independence and safety of lawyers and their effective protection against any form of retaliation, including violence, in connection with their professional activity."
Lawyers for Lawyers roept de Azerbeidjaanse autoriteiten op om de aanbeveling van het Comité onmiddellijk te implementeren en de bedreigingen tegen Elchin Sadigov te beëindigen. Lawyers for Lawyers zal de zaak op de voet blijven volgen, evenals de situatie van de andere advocaten in Azerbeidzjan.
Meer nieuws uit Azerbaijan