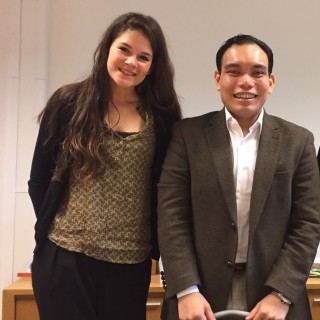 4 februari 2016
Lawyers for Lawyers spreekt met advocaat Syahredzan Johan
Op 2 februari 2016 sprak Lawyers for Lawyers met de Maleisische mensenrechtenadvocaat Syahredzan Johan over de situatie van advocaten in Maleisië.
Syahredzan bezocht Nederland in het kader van het 'Dutch Visitors Programme' dat de Rijksdienst voor Ondernemend Nederland zes keer per jaar organiseert in opdracht van het Ministerie van Buitenlandse Zaken.
Advocaten in Maleisië die zich kritisch uitlaten over de staat zijn vaak het onderwerp van intimidatie en oneigenlijke inmenging. Met de opkomst van social media is het internet een platvorm geworden om kritiek te uiten. Verscheidene wetten, waaronder de 'sedition act' werden onlangs gewijzigd, waardoor het mogelijk is om personen die kritiek uiten via het internet te vervolgen. De 'sedition act' wordt ook in toenemende mate gebruikt om juristen en advocaten te belemmeren, die hun mening over de bestaande wetten willen uiten.
Zo werd mensenrechtenadvocaat Eric Paulsen in februari 2015 aangeklaagd op grond van de 'sedition act' voor sedition (opruiing). Deze aanklacht zou zijn gebaseerd op een tweet van 9 januari 2015 waarin hij de 'Malaysian Islamic Development Department' ervan beschuldigde extremisme te promoten tijdens de preken op vrijdagen.
De Maleisische Orde van Advocaten uit zich kritisch over deze wetten en de arrestaties van Maleisische advocaten en activisten. De Orde organiseerde op 16 oktober 2014 al de 'Walk for Peace and Freedom', een 1,3 kilometer lange mars uit protest tegen de recente reeks van arrestaties, aanklachten, onderzoeken en vervolgingen gebaseerd op de 'sedition act'. Tweeduizend advocaten namen deel aan de mars.
Deze ontwikkelingen baren Lawyers for Lawyers zorgen. Uit Principle 23 van de VN-Basic Principles on the Role of Lawyers vloeit voort dat advocaten het recht hebben om deel te nemen aan publieke discussies over de wet, de rechtspraak en de bevordering en bescherming van de mensenrechten. De autoriteiten hebben de plicht dit recht te respecteren en te beschermen.
Lawyers for Lawyers blijft in contact met Syahredzan Johan en zal de situatie van de advocaten in Maleisië nauwlettend blijven volgen.