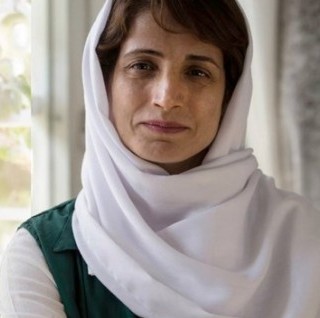 12 maart 2019
Nasrin Sotoudeh jailed for 38 years
Nasrin Sotoudeh, an internationally renowned human rights lawyer jailed in Iran, has reportedly been handed a new sentence of 33 years in prison and 148 lashes. The sentence, reported on her husband Reza Khandan's Facebook page on 11 March, brings her total sentence to 38 years in prison. Earlier, she had been sentenced in her absence to five years in prison in a separate case.
Nasrin Sotoudeh is a prominent human rights lawyer who in recent months has acted as the lawyer for women's rights activists who protested against the compulsory veiling in Iran and were subsequently prosecuted. She was arrested in June 2018. This week, she was informed by the office for the implementation of sentences in Tehran's Evin prison where she is jailed that she had been convicted on seven charges,  including "inciting corruption and prostitution", "openly committing a sinful act by… appearing in public without a hijab" and "disrupting public order".
The United Nations Special Rapporteur on human rights in Iran, Javaid Rehman, raised Sotoudeh's case at the UN Human Rights Council in Geneva on Monday, saying that last week she "was reportedly convicted of charges relating to her work and could face a lengthy prison sentence". He furthermore stated that "worrying patterns of intimidation, arrest, prosecution and ill-treatment of human rights defenders, lawyers and labour rights activists signal an increasingly severe state response."
This is not the first time Nasrin Sotoudeh was arrested. In 2010, Nasrin Sotoudeh was given a prison sentence of eleven years and banned from working as a lawyer or leaving the country for twenty years. After she appealed, her prison sentence was reduced to 6 years. Nasrin Sotoudeh remained in prison for three years under charges of 'spreading propaganda' and 'conspiring to harm state security'. She was finally released in September 2013 after receiving a pardon.
Lawyers for Lawyers has grave concerns about the situation of Nasrin Sotoudeh. Lawyers for Lawyers fears that the recent arrest of Nasrin Sotoudeh is related to her activities in the defence of human rights, particularly her work as a human rights lawyer. We reiterate our call for her immediate release.