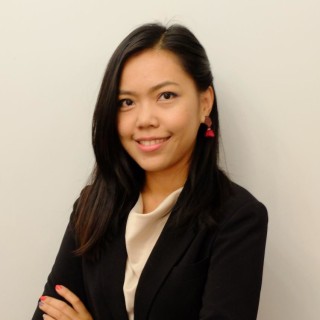 18 juni 2018
Sirikan 'June' Charoensiri ontving jaar geleden de L4L-Award
"Thaise junta blijft rechten schenden"
De Thaise mensenrechtenadvocate Sirikan Charoensiri ontving een jaar geleden de Lawyers for Lawyers Award. Ze was de eerste vrouw die de prijs kreeg toegekend. De jury roemde haar 'standvastige moed en toewijding' bij haar strijd voor de mensenrechten in Thailand. We vroegen Charoensiri – 'June' voor vrienden – hoe het haar sindsdien is vergaan.
"De militaire junta zit er nog steeds. De beperkende wetten en orders zijn onverminderd van kracht. Onze inzet voor de rechtsstaat, mensenrechten en democratie in Thailand gaat door. Zoals ik al zei tijdens de prijsuitreiking: ons werk is nog lang niet gedaan".
De Nederlandse ambassade in Bangkok organiseerde ook een receptie voor je. Welke betekenis had dat voor jou?
"De Nederlandse opstelling is van grote waarde voor mensenrechtenverdedigers hier in Thailand. De ambassade heeft mij ook persoonlijk op verschillende manieren ondersteund. Door waarnemers naar mijn rechtszaken te sturen en  door me aan te bevelen voor het Shelter City Programma, bijvoorbeeld.
Voor de receptie waren diplomaten en andere vertegenwoordigers van de internationale gemeenschap uitgenodigd, evenals Thaise burgerbewegingen, academici en mijn collega's. Een blijk van waardering voor de moed van degenen die onvermoeibaar vechten voor recht en gerechtigheid. Daarmee was het ook een duidelijke boodschap richting Thaise autoriteiten. Consistente internationale aandacht, zoals via de L4L Award, is nodig om de machthebbers er voortdurend op te wijzen dat Thailand de mensenrechten van zijn inwoners moet respecteren en beschermen."
Dit jaar was jij één van de vrouwen van over de hele wereld die een International Women of Courage Award ontving van het Amerikaanse ministerie van Buitenlandse Zaken. Dat moet een speciale eer zijn geweest.
"Dat was het zeker! En wederom een duidelijk signaal dat de wereld weet wat er in Thailand gebeurt. Dat de rechtenschendingen door het militaire regime niet ongezien blijven."
Hoe is het met jou persoonlijk? 
"Momenteel word ik in drie verschillende zaken door de politie beschuldigd van een reeks misdrijven. Het gaat onder meer om opruiing, schending van het  verbod op politieke bijeenkomsten, het verstrekken van valse informatie aan de politie, weigering om te voldoen aan een officieel bevel en het verbergen van bewijsmateriaal. Al die aantijgingen hebben te maken met het feit dat ik studentenactivisten verdedig. Drie zaken zijn in behandeling, maar er zijn nog geen formele aanklachten.
Een voorbeeld hoe het gaat. In mei 2016 verzette ik me tegen het doorzoeken van mijn auto zonder gerechtelijk bevel. De politie beweerde mobiele telefoons van mijn cliënten te zoeken. Vervolgens werd ik beschuldigd van twee misdrijven: weigering om een bevel op te volgen en het verbergen van bewijs. We zijn nu twee jaar verder. De officier van justitie heeft zijn beslissing om al dan niet tot vervolging over te gaan, al meer dan tien keer uitgesteld. En op 19 juni moet ik mij opnieuw melden. Kortom, de juridische intimidatie tegen mij gaat maar door".
Het leger is al aan de macht sinds mei 2014. 
"De militaire junta, officieel de Nationale Raad voor Vrede en Orde (NCPO),  blijft ongehinderd aan de macht op basis van een zelf-uitgeschreven tijdelijke grondwet uit 2014. Terwijl in april 2017 een nieuwe grondwet van kracht is geworden. Het hoofd van de junta heeft meer dan 180 decreten uitgevaardigd op grond waarvan het leger gevrijwaard blijft van gerechtelijke onderzoeken en aanklachten. Het leger kan iemand zeven dagen vasthouden zonder aanklacht en er is een verbod op politieke bijeenkomsten van vijf of meer mensen. Inmiddels zijn al zeker tweeduizend burgers voor militaire rechtbanken gebracht. De beloofde verkiezingen zijn de afgelopen drie jaar minstens vier keer uitgesteld."
Dat klinkt weinig hoopvol..
"Helaas…de mensenrechten lijden erg onder de militaire dictatuur. Het ziet er somber uit. Er is maar één uitweg: Thailand moet richting democatie".
Tekst: Johan van Uffelen