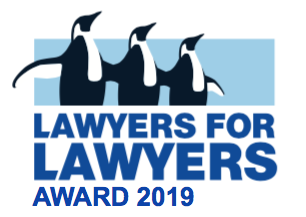 19 maart 2019
Uitreiking Lawyers for Lawyers Award 2019
De Lawyers for Lawyers Award 2019 wordt uitgereikt op donderdag 23 mei 2019 in Amsterdam. Het is alweer de vijfde keer dat de internationaal gewaardeerde Lawyers for Lawyers Award wordt toegekend. Voorafgaand aan dit evenement is er een uiterst interessant symposium. Dus: Markeer deze datum alvast in uw agenda en schrijf u in!
Wij organiseren het symposium in samenwerking met de Amsterdamse Orde van Advocaten en de Justitia commissie van de Jonge Balie Amsterdam. Het symposium gaat over de ontwikkelingen rond het voorgenomen Europees verdrag ter bescherming van advocaten. Er zullen twee paneldiscussies plaatsvinden rondom dit thema. Sprekers zijn onder meer François Moyse (Vice-Chair of the CCBE European Convention Working Group), Mikolaj Pietrzak (president of the Warsaw Bar Association) ende voormalige Award winnaars en advocaten Sirikan 'June' Charoensiri (Thailand), Magamed Abubakarov (Rusland) en Alec Muchadehama (Zimbabwe).

Datum: 23 mei 2019
Locatie: De Rode Hoed, Amsterdam
Programma:
14.00 – 14.30 uur            Inloop met koffie en thee en registratie
Deel I – Symposium met als onderwerp het voorgenomen Europees verdrag ter bescherming van advocaten:
14.30 – 14.45 uur           Opening
14.45 – 15.45 uur            Panel discussie 1
15.45 – 16.15 uur            Pauze
16.15 – 17.00 uur            Panel discussie 2
Deel II – Uitreiking Lawyers for Lawyers Award 2019:
17.00 – 17.30 uur            Ceremonie met jurylid Prof. Egbert Myjer, uitreiking
Award door Sirikan Charoensiri aan winnaar 2019
17.30 – 19.00 uur            Borrel
Verdere details zullen wij u per email toesturen.
Over de Lawyers for Lawyers Award
Met de tweejaarlijkse Award vraagt Lawyers for Lawyers internationale aandacht en erkenning voor advocaten die vanwege hun beroep grote persoonlijke risico's lopen. Ze worden bijvoorbeeld bedreigd, strafrechtelijk vervolgd of van het tableau geschrapt, omdat ze zaken behandelen die de overheid onwelgevallig zijn of zich publiekelijk uitspreken over mensenrechtenschendingen. Lawyers for Lawyers steekt advocaten in zulke situaties een hart onder de riem: met de Award wordt wereldwijd zichtbaar gemaakt onder welke omstandigheden deze collega's moeten werken, wat bij kan dragen aan hun bescherming.
Wij hopen u te mogen begroeten tijdens het symposium en de Lawyers for Lawyers Award uitreiking 2019!
De Stichting Opleiding Advocaten Amsterdam kent aan het bijwonen van Deel I 'het symposium' 2 PO-punten toe!