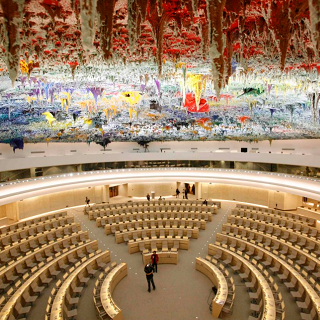 1 april 2016
Thailand-blog Pre-session: L4L vraagt aandacht voor positie Thaise advocaten
Door Karin Monster
Op woensdag 30 maart wordt in Genève, tijdens de pre-sessies ter voorbereiding op de aankomende 'Universal Periodic Review' (UPR), onder andere de mensenrechtensituatie in Thailand besproken. L4L is hierbij aanwezig en vraagt aandacht voor de naleving van Thailands (inter)nationale verplichtingen tot het garanderen van het recht op onafhankelijke beroepsuitoefening van de advocatuur, zoals onder andere vastgelegd in de VN 'Basic Principles on the Role of Lawyers'.
Milena Latuputty, die L4L tijdens de pre-sessie vertegenwoordigt, werkt al jaren samen met partnerorganisaties in Thailand om de benarde positie van lokale advocaten te verbeteren. Op basis van de samenwerkingsrelatie met deze partnerorganisaties en individuen, vraagt Milena namens L4L tijdens de UPR pre-sessies aandacht voor het feit dat Thaise advocaten met regelmaat worden blootgesteld aan bedreigingen, intimidatie en / of ongepaste inmenging door openbare autoriteiten.
L4L vraagt onder andere aandacht voor de straffeloosheid voor misdaden tegen Thaise mensenrechtenadvocaten. Dit wordt wellicht het best geïllustreerd door de zaak van Somchai Neelapaijit, een Thaise advocaat die verdween op 12 maart 2004, nadat hij de politie openlijk beschuldigde van marteling van zijn cliënten in de gevangenis. Hoewel er tegen vijf politieofficieren ernstige verdenkingen bestonden dat zij betrokken waren bij de vermissing van Somchai, werd slechts één van de officieren veroordeeld. Later, tijdens de uitspraak in hoger beroep in 2011, sprak het Hof ook deze officier vrij.
Een tweede punt dat L4L onder de aandacht brengt, is de beperkte vrijheid van meningsuiting van Thaise advocaten. Deze beperking vloeit gedeeltelijk voort uit recente Thaise wetgeving die vergaande macht toebedeelt aan afgevaardigden van het leger om als politierechercheurs of rechtshandhavers op te treden. Zo werd mensenrechtenverdediger Anon Nampa in 2015 beschuldigd op grond van de in 2007 aangenomen Computer Crimes Act. Anon Nampa werd in februari 2015 samen met drie andere activisten gearresteerd, terwijl zij bezig waren met het organiseren van een mensenrechtenevenement. Naar aanleiding daarvan bekritiseerde Anon het militaire regime in enkele facebookberichten. Hierop werd strafvervolging tegen hem ingesteld wegens "het importeren in een computer van onjuiste informatie die de nationale veiligheid zou kunnen schaden".
Milena vertelt dat L4L tijdens de pre sessie een aantal landendelegaties over voorgaande kwesties zal informeren. Deze landen hebben tijdens voorgaande UPR's onderwerpen aangekaart, die de aandachtgebieden van L4L raken. Ook trekt zij namens L4L op met andere ngo's met soortgelijke doelstellingen. "Alle activiteiten hebben uiteindelijk tot doel de (verbetering van de) situatie van Thaise advocaten op de agenda van de Thaise regering te krijgen", aldus Milena.
Lees hier binnenkort meer over het verloop van de pre-sessies in Genève en de lobby activiteiten van L4L in het kader van de positie van advocaten in Thailand.