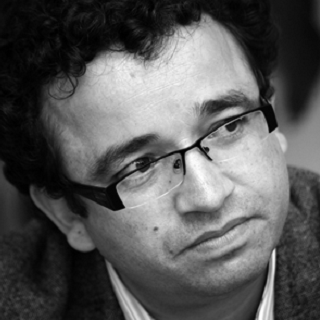 Award laureate 2015
Jorge Eliécer Molano Rodríguez
Op 29 mei heeft de Colombiaanse advocaat Jorge Eliécer Molano Rodríguez de derde L4L-Award in ontvangst genomen in Amsterdam. Dat gebeurde aan het einde van een voor deze gelegenheid georganiseerd seminar.
Voor Molano is de L4L-Award een welkome steun in de rug. Vanwege zijn werk loopt hij groot gevaar en de autoriteiten doen te weinig om hem te beschermen. Al jaren worden geregeld advocaten en mensenrechtenverdedigers vermoord en de straffeloosheid is groot. Jurypresident Heikelien Verrijn Stuart prees Molano's decennia lange toewijding en zijn enorme persoonlijke moed en uithoudingsvermogen onder deze moeilijke omstandigheden.
Voorafgaand aan de uitreiking werd stilgestaan bij de vele andere genomineerden, van wie een groot deel op dit moment gedetineerd is. Speciale aandacht was er voor de nummers twee en drie op de shortlist van de jury, Khalil Maatouk uit Syrië en Pu Zhiqiang uit China.
Tijdens het seminar stond Basic Principle 18 centraal, een artikel uit de Basic Principles on the Role of Lawyers dat stelt dat advocaten niet geïdentificeerd mogen worden met hun cliënten. Molano en collega's uit Turkije en Kameroen vertelden vanuit hun eigen ervaring hoe dit principe soms met de voeten wordt getreden. Ayse Bingol uit Turkije vertelde hoe advocaten in terrorisme-zaken rechten worden ontzegd waardoor het erg moeilijk is om hun werk naar behoren uit te oefenen. Dit dwingt hen ertoe zich nog nadrukkelijker op te stellen voor hun cliënten. Ook Alice Nkom uit Kameroen, die als een van slechts twee advocaten LGBT-zaken durft te doen, wordt geregeld vereenzelvigd met haar cliënten. Dit schrikt haar niet af maar doet haar volharden in haar missie: deze kwetsbare groep bewust maken van de rechten die zij hebben op basis van de geldende wetgeving.
Klik hier voor het paper dat werd geschreven ter voorbereiding van de seminar.
Lawyers for Lawyers kijkt met trots terug op de uitreiking van de L4L-Award en het seminar. L4L bedankt NautaDutilh, Houthoff, de Amsterdamse Orde van Advocaten en Höcker, haar vrijwilligers en gasten voor hun hulp, inbreng en aanwezigheid.
Zie ook dit interview met Jorge Molano in het Parool en dit verslag van het seminar van Tatiana Scheltema op Advocatenblad Online.